Centrifugation and Pond/Lagoon Cleaning
State-of-the-art ATEX robotic pond/lagoon cleaning systems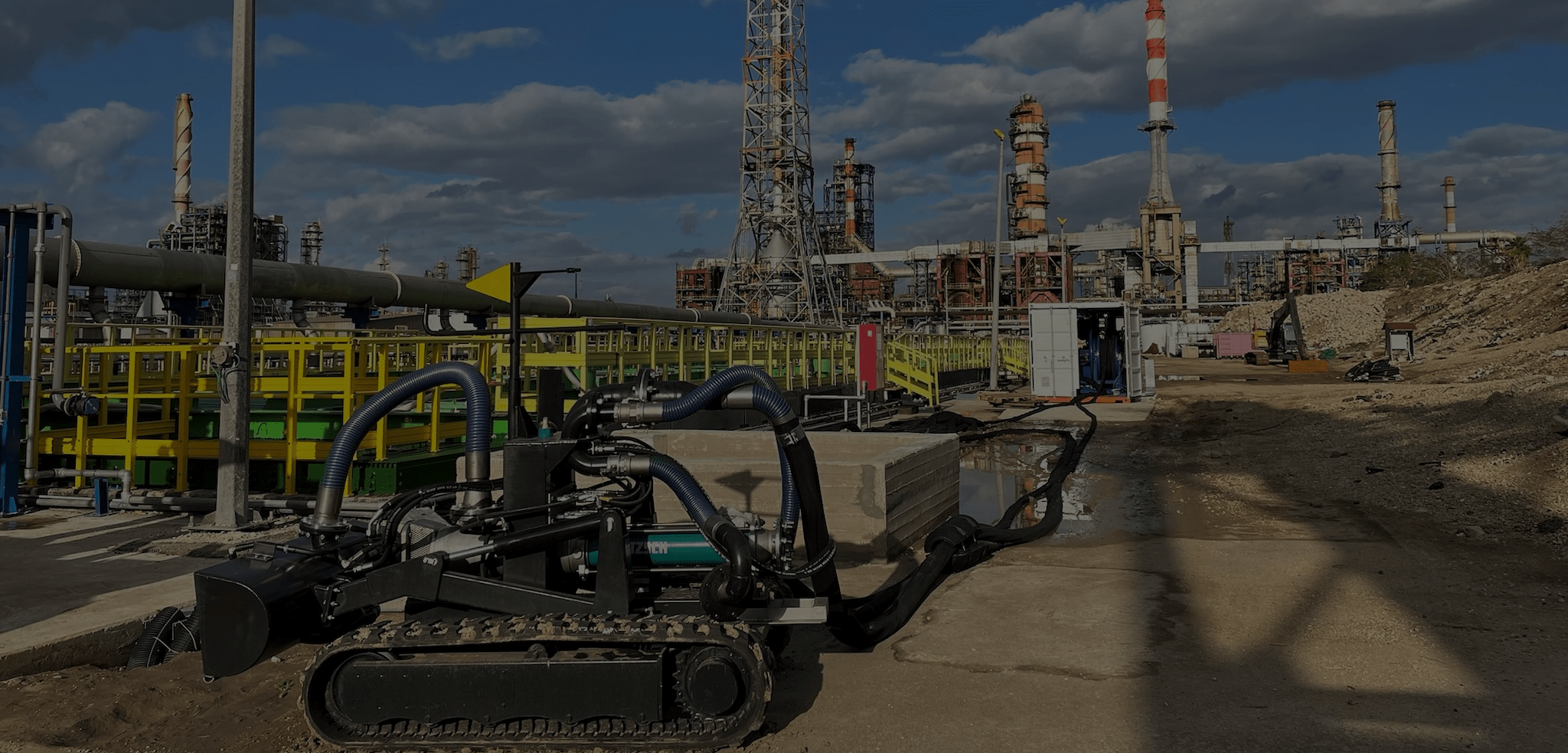 We are equipped with state-of-the-art ATEX robotic equipment to remove sludge remotely from the bottom of ponds and lagoons which allows us to clean them without having to take them out of service. We combine robotic sludge removal with its treatment in mobile ATEX two or three-phase centrifuge mobile plants.
Our robots, dredgers, and centrifuges enable us to remove sludge from the bottom of ponds without having to empty them. This allows our customers to carry on with their normal operations while we perform cleaning tasks.
Water, product, or waste accumulation ponds/lagoons are facilities that require periodic maintenance consisting of removal and treating the sludge and supernatants that accumulate over time. This kind of waste reduces such equipment's storage capacity and may cause disruptions to the normal operation of the customer's facilities.
Periodic cleaning of these facilities with robotic equipment helps to avoid said issues through the centrifugal recovery of any recoverable fractions contained in the sludge, thereby reducing the volume of final waste.
We design, build and operate our own in-house mobile treatment plants thanks to our experience of over 20 years in the Oil & Gas industry. We are therefore able to offer customers quick solutions having very low implementation costs by carrying out on-site centrifugation treatments that enable the customer to recover recoverable fractions and reduce the amount of waste that needs to be managed.
Applications
Removal and emptying of sludge from ponds and lagoons that are in service
Two or three-phase sludge centrifugation and tank centrifugation
Removal and emptying from covered ponds and digesters via ATEX CCTV
Features
Robotic ATEX sludge removal systems
State-of-the-art ATEX two and three-phase centrifuge modules
Quickly implemented mobile equipment
Advantages
Maximum hydrocarbon recovery (over 95%)
On-site waste removal and treatment without the need for production stoppages
A robotic system that does not require the entry of personnel into confined spaces (minimal health & safety hazards for personnel)
Centrifuge and Filtration Equipment
The sludge removed using the aforementioned methods must generally be treated to minimize the volume of waste through its dewatering and/or hydrocarbon recovery. In order to achieve this, we are equipped with mobile plants to perform these treatments on site, thus avoiding the cost and transport risks associated with this kind of waste. We have mobile ATEX two and three-phase centrifuge equipment having different capacities installed in standard 20 and 40-foot containers. This allows us to deploy them quickly and specifically tailor the treatment and recovery flow rate to the customer's needs.
ATEX Robots
Hydraulically actuated, remote-controlled submersible equipment specially designed for sludge removal from ponds/lagoons of any depth that are in service. This type of unit is equipped with different positive displacement sludge removal devices which, together with its low displacement speed, allow this kind of work to be carried out with minimal turbulence.
This equipment is installed in a standard 20-foot container and is ATEX zone 1 certified. The robot may be supplemented with other kinds of equipment (sludge breaker, skimmer, or pusher) that allow other ancillary tasks to be performed, such as surface skimming or final pond/lagoon bottom cleaning.
Floating Dredges
Remote-controlled, electrically/hydraulically actuated floating dredge equipped with a swing arm and lobe pump for sludge removal from large ponds and lagoons.
The cleaning swing arm is adjustable in height and equipped with a screw conveyor for pre-feeding the sludge pump, thus allowing sludge with high solid concentrations to be removed. The arm fits on two wheels to glide along the bottom and avoid damaging the insulating liner that some of these ponds have. The dredger is moved by four remote-controlled propellers.